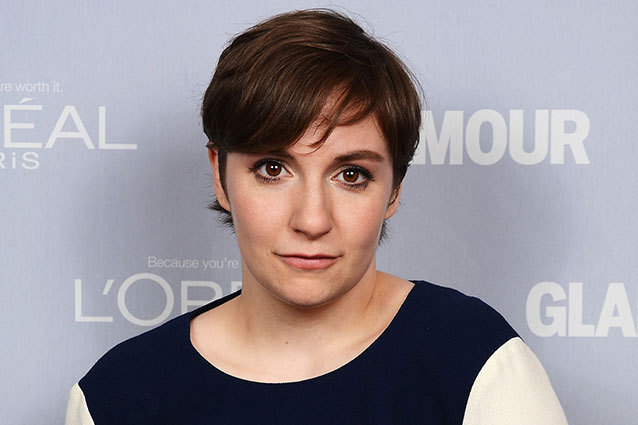 Pretty soon Girls actress and creator Lena Dunham will be apologizing for the common cold and that dinner you RSVP'ed to but didn't show up for. The Golden Globe-winning star, who has had to clear up everything from her voter registry to women's body issues (or, really, the people who take special issue with her body) is now taking heat for something she didn't say.
RELATED: Lena Dunham's Revenge: Looking Damn Sexy On The Cover Of 'Rolling Stone'
Earlier this week, button-pushing stand-up comic, Celebrity Apprentice star, and Comedy Central Roast regular Lisa Lampanelli — whose schtick, in case you don't know, primarily consists of explicitly talking about her interracial relationships — tweeted a photo of herself with Dunham with the message, "Me with my ni**a @LenaDunham of @HBOGirls - I love this beyotch!!" Only there were no asterisks. While her use of the term is incredibly offensive, Lampanelli refused to apologize for it.
During an interview with XOJane.com, Lampanelli argued that there's a difference "between saying the N-word with the A on the end versus the N-word with the R" and that "y'know, it's humor." (Get it?!) Lampanelli then went on to say that her tweet was more or less a piece of performance art, "Any time I'm on Twitter, Facebook, or Instagram, it's not Lisa the Person, it's Lisa the Comic. Any time I put something out there, it's because it's Lisa the Comic at an event, or Lisa the Comic having fun but still being comedic about it."
Now, one could argue that Lampanelli is actually no different from or no worse than Quentin Tarantino, who uses the N-word excessively in his films and occasionally, unwisely drops it in real life. But with Tarantino, Quentin the Person and Quentin the Director are the same crazy (albeit talented) person. There's no separate persona. Also, if that's really the case with Lampanelli, where does Lisa the Person begin and Lisa the Comic end? And what exactly is Lisa the Comic trying to say with statements like this? What's the punchline here exactly?
RELATED: Lena Dunham Says She Voted — Who Do We Believe?
The bigger question to ask, however, is where does Dunham factor in to all of this, considering it was Lampanelli who wrote, and then defended, the offensive tweet? Dunham was called out on Twitter by another XO Jane writer Shayla Pierce for not condemning Lampanelli's choice of words. Or rather, word. Pierce wrote that Dunham "has showed her true colors on this whole n-word debacle. Her silence speaks volumes" and "Even a short 'Not cool, Lisa' tweet would have nice. But nope. Crickets."
Dunham, via Twitter, assured Pierce, who vowed never to watch Girls again, "That's not a word I would EVER use. Its implications are beyond my comprehension. I was made supremely uncomfortable by it... Perhaps I should have addressed it, but the fact is I've learned that twitter debates breed more twitter debates... Don't like the idea that my silence read to you as tacit approval. It wasn't."
The 26-year-old, who has been faced with addressing the issue of racial diversity before, particularly for what many criticize for a lackthereof on her divisive HBO series, explained to Pierce that "140 characters will never be enough for the kind of dialogue that will actually help us address issues of race and class," praised her for her eloquent, heartbreaking essay regarding the N-word in the wake of Lampanelli's statment, and, in the end, apologized. "I'm sorry that any of those feelings were evoked for you, especially by a sentence with my name in it," Dunham concluded in their Twitter chat.
RELATED: Lena Dunham Addresses 'Girls' Nudity, Implores Everyone to Cool Their Jets
Pierce graciously accepted Dunham's apology ("Thank you so much. And I do <3 you and your work. Thanks for addressing this *hugsies* @lenadunham") but one still has to wonder why Dunham, who didn't say that awful, inexcusable word, has to do so much apologizing on Lampanelli's part. It's no surprise considering that she is a lightning rod for controversy these days (she can't sneeze without someone complaining that her mother probably helped her sneeze) and she should absolutely condemn the use of that terrible, vile word and any association she may have with it, but in this particular case, this really isn't her cross to bear. It's Lisa Lampanelli's.