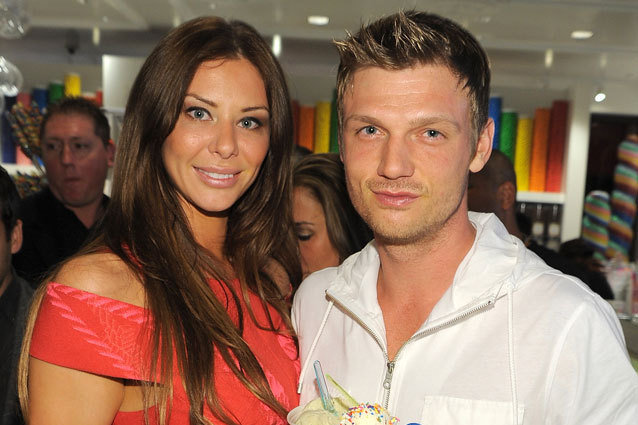 If things go according to plan, Nick Carter will never be able to show anyone the "meaning of being lonely" ever again. He has found his "one desire," and now "everybody" will know the love he has for his girlfriend of over four years, fitness expert/actress Lauren Kitt. Upon realizing he would be "incomplete" without her, Carter proposed.
"I had the ring in my pocket for two weeks," Carter tells
People
. "I was like, 'I don't want it anymore!' It was driving me insane. I just wanted to get it out of my hands and onto hers."
For the engagement, Carter, 33, took Kitt, 29, to the Florida Keys where he planned a romantic boat ride to a secluded island. Despite the boat's bad condition ("I hadn't used it for, like, six years. It took me five days literally on my hands and knees, scraping up my body [to fix it,]" Carter says) Carter and Kitt set out to sea on Wednesday. Joined by some close friends and Kitt's father, the couple headed to a small island where Carter had spent time as a child, where Carter presented Kitt with a seven-carat diamond ring. The couple now refers to the island as "Engagement Island."
RELATED: Backstreet's Back (Again): Nick Carter Picks His Favorite Things From the '90s
Kitt, of course, said "Yes!" and tells People she is "just so happy in love right now and on cloud nine."
The couple will now have to schedule their wedding around the Backstreet Boys' big comeback. The band is working on a new album and preparing for their sold-out fan cruise in October to celebrate their 20th anniversary (now do you feel old?). "It's not up to us. It's up to the schedule," Carter says of setting a date. "We're just excited and looking forward to the next chapter of our lives."
Sorry, last one — Now, "as long as they love" one another, these two will be happy forever.
Carter is hardly the first boy band member to tie the knot. Check out the other Backstreet Boys (as well as N'Sync and 98 Degrees members) who have already headed down the aisle in style.