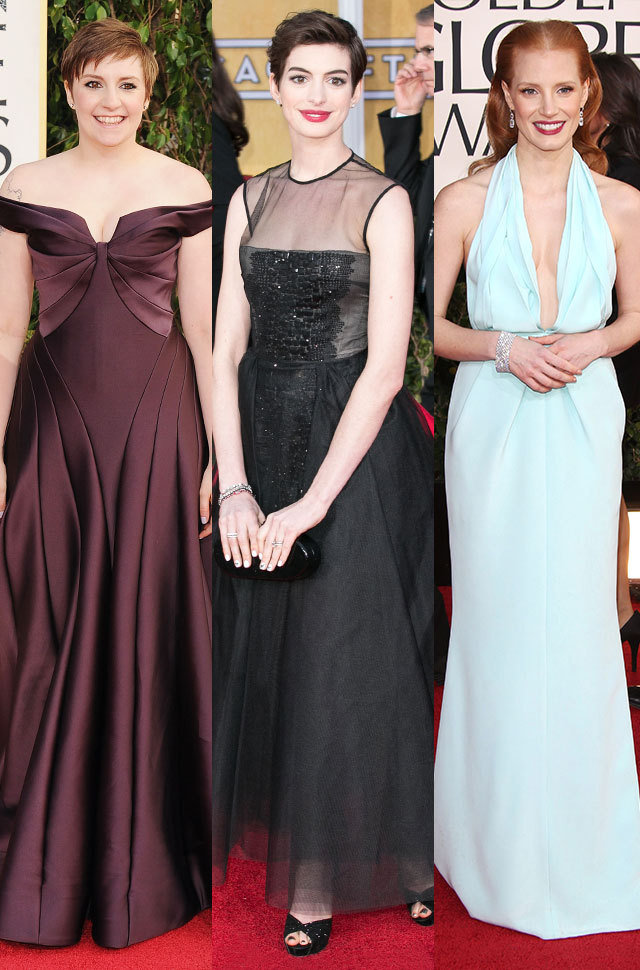 While the red carpet looks this season have wowed us and bored us, shocked us and given us enough fodder to chat for months, three celebrities have yet to really impress us with their red carpet dresses. While Girls star Lena Dunham, Les Misérables star Anne Hathaway, and Zero Dark Thirty star Jessica Chastain have raked in the wins, they've floundered on the red carpet this awards season. These struggling fashionistas need redemption, and what better way to prove their style know-how than to look bangin' on Oscar night? All they need to do is deliver one whopper of a dress at the Academy Awards ceremony or after party, and we'll forgive them for the following travesties.
RELATED: Our 2013 Oscar Predictions
Lena Dunham at the Golden Globes
Dunham is known for breaking the mold and flaunting her own style without offering apologies, and it usually works for her (hell, that's why we love her so much). But her eggplant Zac Posen gown came across almost brown on camera, looking very drab. The cut of the gown made it seem like she was wearing a size too big, and she was lost in the heavy, pleated fabric. While we don't expect to see Dunham at the Dolby Theatre (the rat-faced people of television, as Amy Poehler would say, aren't allowed at this ritzy affair), we hope she steps it up this Sunday and arrives at one of the after parties looking appropriately fly.
Anne Hathaway at the SAGs
Hathaway might have wowed audiences singing in Les Miserables, but her black Giambattista Valli Haute Couture gown at the SAG awards was just plain miserable. The sheer overlay was like a ballet tutu gone bad, the length was just awkward, and when a dress makes a woman as thin as Hathaway look frumpy... you know it was a bad choice.
Jessica Chastain at the Golden Globes
This radiant redhead is one of the most flawless beauties in Hollywood right now and, thanks to Zero Dark Thirty, she is one hot item. You'd think she would anticipate her many trips to the stage and up the ante in the fashion department, but she just can't seem to get her red carpet look down. Her biggest flop was her ill-fitting Golden Globes gown. Her sky blue Calvin Klein number succeeded in making her perfect figure look droopy and when you have skin as fair as Chastain's, it's best to stear clear of such light colors.
Let's hope these lovely ladies turn it around and bring their A-game to Oscar night this Sunday.