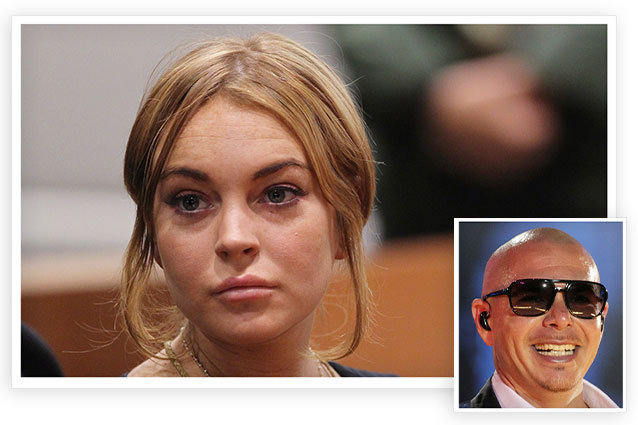 The sky is blue, puppies are adorable, and Lindsay Lohan fails at life yet again. Some things will just never change.
So here's the lastest roadblock that's hit Lilo's life of debauchery. Remember way back when — August 2011, to be exact — when Lohan announced that she was suing rapper/singer Pitbull for using her name in his hit song, "Give Me Everything"? Today, the official verdict is in and it looks like the actress is getting absolutely nothing.
RELATED: Lindsay Lohan Ruins Dress With Impromptu Tailoring
According to E! Online, a federal judge dismissed Lohan's lawsuit, ruling that the lyrics — "I've got it locked up like Lindsay Lohan" — are protected by freedom of speech rights established in the First Amendment.
"This will further solidify the rights of artists to express themselves in song," Pitbull's attorney, Marcos Jimenez, said to E! News on Thursday. "[Pitbull] is very pleased. He felt it was very important to address this head on to protect his right and the rights of other artist. He decided to fight this."
Fingers crossed Lohan tries to take another crack at her atrocious singing career and writes a retaliation song. Let's see… what rhymes with rehab?
RELATED: Lindsay Lohan Back In Court
To help measure of the level of Lohan's current craziness, we're bringing back out our handy dandy Lindsay Lohan Train(wreck) Speedometer. So where does the Linsanity fall this time? We'd say this one is a little higher than a Twitter fued, but not quite as intense as a nip slip or a cooka pic. Way to go, LiLo!