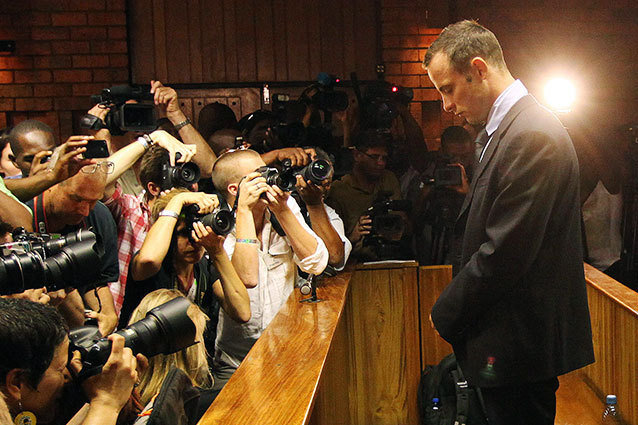 Oscar Pistorius may not be a free man, but he won't be spending time behind bars as he heads to trial for the alleged murder of his girlfriend Reeva Steenkamp. Pistorius was granted bail on Friday morning in South Africa after four days of hearings, during which he claimed he accidentally shot Steenkamp after mistaking her for an intruder, The New York Times reports.
Magistrate Desmond Nair, the judge overseeing the hearings, concluded that the case against Pistorius was not "so strong and watertight" that Pistorius "must come to the conclusion that he has to flee."
RELATED: Pistorius Documentary in the Works
Nair continues, "What kind of life would he lead, a person who has to use prostheses, if he has to flee… ducking and diving every day," he said. "His international career would be over in any event."
Pistorius' bail was set at one million rand, which amounts to about $112,000.
Now that Pistorius doesn't have to spend the days awaiting trial behind bars, his running coach Ampie Louw is considering getting Pistorius running again t"to get his mind clear." While Pistorius claims he is not yet emotially ready to get back to the track, Louw thinks that training may help the athlete deal with the stress of the trial. "The change is that he is heartbroken, that is all," Louw said. "For me it is tough to see that. The sooner he can start working the better."