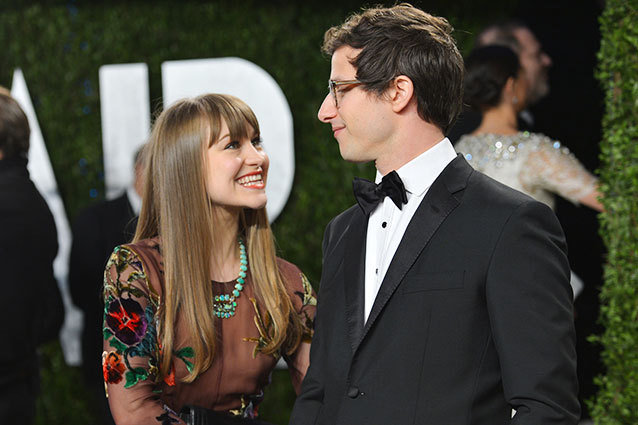 That wasn't a d**k in a box, it was a ring! Comedian Andy Samberg just got engaged to Joanna Newsom (and no, she didn't throw the ring on the ground). A rep for the Saturday Night Live alum and Lonely Island member confirmed to Us Weekly that the 34-year-old is getting married to his singer-songwriter girlfriend, 31. They have been dating for five years.
Samberg was into Newsom even before they met through mutual friends. "He liked her music and would go to her shows," a friend of Samberg's told the mag last year. "He had the biggest crush on her." The feelings were mutual for Newsom, as well. "She respects what he does with his songs," the friend said. "She's so proud of everything that he has accomplished [with Lonely Island]."
RELATED: Andy Samberg Teams with 'Parks and Rec' EPs for Fox Pilot
Hollywood.com reached out for comment but did not immediately get a response. Now that Samberg is headed down the aisle, maybe this will inspire new material for Lonely Island. Perhaps some marital sketches and songs? We know Samberg can put a new spin on old romance, thanks to his unforgettable "Mother Lover" collaboration/sequel to "D**k in a Box" with his recently married friend Justin Timberlake:
Even a celebratory "I Just Got Engaged" video in the same vein as "I Just Had Sex" would be awesome:
But we hope Samberg doesn't get any ideas about recreating "The Golden Rule"... we still have nightmares about that one.